Masters Restoration provides Commercial Roofing Services in McDonough, GA. Commercial roofing is complicated and if done incorrectly, the outcome of badly performed installations can be far more dangerous. This is the reason that there are more residential roofing companies than commercial. Here at Masters Restoration, our experience make us your best choice in the McDonough, GA area for meeting and exceeding your commercial roofing needs.
We are exceedingly careful when adding people to our team, making sure they have the ability and experience needed, as well as an honest and strong work ethic. They must also comply with our drug-free workplace policy. We only choose those who will always take pride in their work to ensure your commercial roofing project is completed on time, on budget, and to your complete satisfaction.
We also know that when you have a roofing issue at your business, time is of the essence. Our quick response rommercial roofing team will quickly arrive and get to work to save your inventory, equipment, and other business assets.
You will enjoy both a product warranty and labor warranty, so you can have peace of mind that your business won't incur added expenses repairing your building's roof during that period of time. Our services are complete, including supplying the necessary roofing permits and being roofing code-compliant at all times. Contact us today with any questions you may have about our commercial roofing services or our company.
Commercial Roof Installation
Running a commercial business involves coordinating and directing many different aspects, including the maintenance of your physical facilities. Because a roof is key in the protection of your business, having a sturdy, reliable roof is necessary. If you are in need of commercial roof installation in McDonough, GA, our team at Masters Restoration is the one to call.
Commercial roof installation is somewhat different than installing a new roof on a home. The shape and slope of the roof has to be taken into account, as well as which materials are available for commercial jobs. No matter what your needs are, we are ready to help you get the best roof possible for your business.
Our experience with commercial roof installation has taught us how to complete an otherwise complicated job in an efficient, stress-free way. You won't have to worry about the progress of your commercial roof installation when you work with us. Each member of our team is chosen because they are trustworthy and qualified for the job.
We are a locally owned and operated business. Each of our customers is important to us, and we work hard to ensure each job we complete is done efficiently and within your budget. You can trust our team to provide quality work that will benefit your business for years to come.
Commercial Roof Repair, McDonough, GA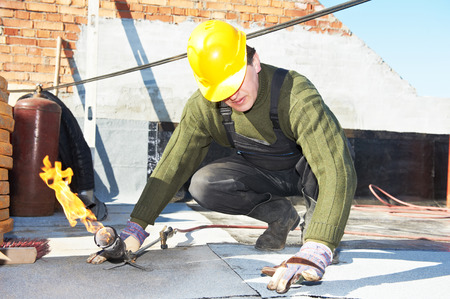 Taking care of the roof on your business can seem overwhelming, especially when faced with unexpected weather and damages. However, repairing your roof in a timely manner is important to prevent small repairs from getting much worse. At Masters Restoration, we are happy to offer quality commercial roof repair to our customers in McDonough, GA.
Whenever you need commercial roof repair done, you can count on our team to respond to your needs quickly. We know your business can't stop for minor leaks or repairs, and we are dedicated to getting the problem fixed efficiently and correctly without disrupting your business.
Each member of our team is qualified and capable of providing expert commercial roof repair. You can trust each member of our repair team to be friendly, professional, and efficient when working on any repair. We have helped many different businesses and government agencies with commercial roof repair over the years, and have established ourselves as a company you can trust. We are committed to continue offering great commercial roof repair services to our customers.