Roof repair is need as most needed when the primary cause is hail and wind. Storm damage that goes undetected can cause the roof to leak and possibly cause more damage in the future. Even if you are not experiencing leaks right now, you could still have significant storm damage that you are not aware of.
Wind Damage to Roof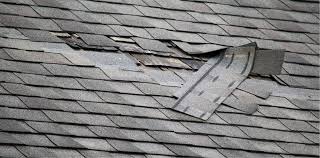 Strong winds can be very damaging to roofs and shingles. Wind Damage to roof can come in many forms, from a single shingle that needs to be replaced to an entire roof being blown off a structure. Wind damage will cause the shingle to break the original seal of the shingle. Many homeowners think if the shingle is not missing that they do not have wind damage. This is not the case. Be sure to have one of our experienced roofing technicians give you your free assessment.

IMPORTANT: Most homeowner's insurance policies cover wind damage to roof.
WHAT ARE THE 6 SIGNS THAT YOU MAY NEED A NEW ROOF?
Hail Damage Roof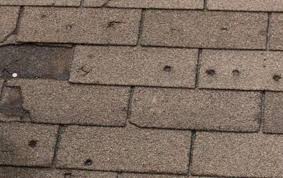 Hail Damage to Roof occurs when hail hits. It can damage the roof or covering of your home as well as other personal property. Although hailstorms can be destructive, the amount of damage can vary greatly. Following are some factors that affect the type and degree of damage that may be impacted by a hailstorm, as well as a guide on how to identify hail damage to different types of shingles and roofing materials.
Hail Damage to Asphalt Shingles occurs when the shingle suffers granule loss or bruising of the matting. Exposing the organic base center to ultraviolet rays can cause further deterioration of the material, shortening the life by up to 40%.

IMPORTANT: Most homeowner's insurance policies cover hail damage to roof.
FREE ONSITE ROOF INSPECTIONS
We offer complete commercial and residential roof repair assessments including reports, photos, damage conclusions, and repair recommendations with regards to hail & wind damage assessments. All of our roof consultants are knowledgeable and have had years of inspection experience. We specialize in residential & commercial roof repair assessments including a variety of services catered to meet the needs of homeowners, insurance agents, real estate agents, and investors.
Our way of doing business, with an accent on honesty and integrity, has helped us earn an A+ rating from the Better Business Bureau and awards with Home Advisor
We are your Local Roof Repair Experts
We have been doing roofing repairs for over 30 years across McDonough, GA and surrounding areas and beyond. We provide reliably solid installation and repairs of shingle and flat roofs for homeowners and commercial clients. In that time, we have earned an ever-growing number of satisfied customers.
Since much of our new business comes to us through this kind of word-of-mouth advertising, we always make it a point to approach each new roofing job with the same attention to quality that we hope will gain us yet another positive reference.
We also work with licensed subcontractors when required.